Violist Erik Peterson explores multiple areas of interest including musicology, technology, aesthetics, and education.  He started playing viola at age ten in his native Chicago and has since performed on the world's leading stages. Dr. Peterson is the founding member and current violist of the acclaimed Voxare String Quartet, with whom he has performed at every major concert venue in New York – including as soloist at Avery Fisher Hall with the New York Philharmonic – and been awarded Chamber Music America's prestigious ASCAP Award for Adventurous Programming. Dr. Peterson has become a leading advocate for contemporary art music, premiering and recording numerous works by living composers. As an orchestral musician, Dr. Peterson has performed with the Milwaukee, Cleveland, and New World Symphonies. He has recorded for Naxos, Albany, and Toccata labels, and his performances lauded in The New York Times, Strad Magazine, The Washington Post, and Strings Magazine. Recently, Dr. Peterson was appointed Co-Artistic Director of the Crested Butte Music Festival with his wife, violinist Emily Ondracek-Peterson.
"Violist Erik Peterson played with intensity and dedication."
–Strad Magazine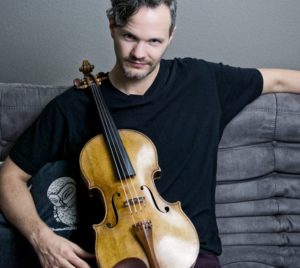 As musicologist and theorist, Dr. Peterson has a broad interest in many types of music. He has lectured at Princeton, NYU, Oxford, the British Library, and frequently speaks at conferences throughout the country and abroad. Dr. Peterson has also held artist-in-residence positions at institutions such as Dartmouth College, the University of Leeds (UK), the University of Virginia, and the International Computer Music Conference. Dr. Peterson's academic interests include aesthetics, arts symbiosis, acoustic-electronic interaction and perception, the economics of education, the composer Paul Hindemith, and 20th century music. He is currently on the musicology faculty at MSU Denver.
Dr. Peterson works in technology as a recording engineer, producer, and editor. He soon will be launching a new record label featuring cutting edge technology in the music's recording, editing, and distribution. Dr. Peterson employs technology to progress learning in arts education; as a founding member of Noted Endeavors with Eugenia Zukerman and Emily Ondracek-Peterson he creates video content that helps emerging musicians to develop sustainable successful careers in the arts. Additionally, Dr. Peterson works with arts organizations and educational institutions in researching both educational and marketing strategies, for which he then provides video content along with web and graphic design.
Outside of the musical and academic realms, Dr. Peterson is a serious photographer whose works have appeared in The New York Times and other leading publications. Favorite leisure activities include skiing, tennis, fly fishing, and cooking.
Dr. Peterson received his Bachelor's degree from the Juilliard School, where he studied with Heidi Castleman and Misha Amory, and his Master's and Doctoral degrees from the Cleveland Institute of Music and Case Western Reserve University, where he studied with Stanley Konopka. Additionally, he studied astronomy at Columbia University. Dr. Peterson plays on a viola made by Franz Kinberg.